Service Administrator - Gloucester, UK
Date: Mar 12, 2023
Location: Gloucester (GBR), Gloucestershire, Gb United Kingdom
Company: Arjo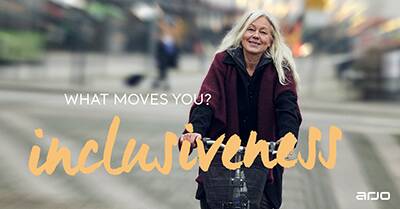 Empowering careers at ARJO
At Arjo, we know what moves us. We go above and beyond for people facing mobility challenges. We take every opportunity to work and grow as one team and take pride in sharing our knowledge and experience. Does that sound like something that moves you too?
This could be your opportunity to begin a challenging and rewarding career in a healthcare company that empowers movement for people with mobility challenges.
Position: Service Administrator
Location: Gloucester – Service and Technical Centre
Hours: Full Time 37hours per week
Contract type: Permanent
This could be your opportunity to begin a challenging and rewarding career in a healthcare company that empowers movement for people with mobility challenges.
The impact that you will have:
The Service Administrator is responsible for processing customer order enquiries including updating contract requirements and managing customer's equipment through our SAP system, logging orders for repairs, maintenance and spare parts as required and in line with customers SLA and providing accurate billing. You will resolve customer queries in a professional and efficient manner. You will also work closely with Field Service Engineers, Contract Managers and the Accounts Team to ensure SLAs and compliance are achieved.
KEY DUTIES WILL INLCLUDE:
Administration/coordination of customer service requests received via email and phone, processing service, repair work and spare part orders accurately and efficiently

Provide technical detail, drawings upon request and deliver 1st line triage

Effective monitoring and management of order, service and repair calls to ensure they are completed within SLA requirements

Ensure that incoming telephone calls and emails are answered in a professional and timely manner supporting all departments with KPIs

Communicating with a wide range of internal and external customers providing ETAs, job progress and any part delivery issue updates

Produce and process quotations for customers for contract renewals, follow on repair work and spare part orders upon request

Prepare and despatch all new and renewal service contracts in accordance with new contract process to ensure customers are notified well in advance of renewal date

Provide service contract administration to Contract Managers and Regional Service Managers

Manage customer assets through ERP system

Maintaining automatic integration of all programmable service work with auto allocation to preferred area field service engineer

Establish and maintain detailed knowledge of Company's current service policy to enable job holder to be point of reference for both internal and external customers

Raising invoices for service customers including contracts, repairs and additional services from service engineer work order reports in a timely manner

Liaise with Accounts department concerning orders on credit hold and assist team where necessary

Raise credits notes for customers when required

Manage and update 3rd party portals to ensure accounts maintained

Manage reporting through SAP systems to support work volumes and SLA agreements

Practice and adhere to companies Core Values
ESSENTIAL SKILLS / EXPERIENCE:
SAP experience desirable

Demonstrates organisational skills to manage time effectively, meeting objectives and deadlines

Demonstrates the importance of customer service

Displays data management skills

Good working knowledge of Microsoft Office products (Excel, outlook and Word)

Highly self-motivated, proactive, personable team player

Good communication skills both written and verbal

Copes well under pressure whilst working to tight deadlines

Conscientious, high attention to details with ability to see tasks through to completion

Methodical, analytical and logical thinker

Able to demonstrate use of initiative
What we offer in return:
You will support our vision to be the most trusted partner in driving healthier outcomes for people facing mobility challenges. In return, we recognize and value our global employees. You will have our full support, training and opportunities for professional development.
Why diversity matters to us:
At Arjo, we believe in the power of diversity. We strongly encourage applicants from all parts of society, which means building a more diverse, equitable, inclusive and engaging environment – not only in the workplace, but also within the communities that we serve, work in and live in. We achieve this through a culture and mind-set that values the uniqueness of all our people.
Please be aware that by applying for this role, you are giving Arjo permission to store your information
About Arjo
At Arjo, we believe that empowering movement within healthcare environments is essential to quality care. Our products and solutions are designed to promote a safe and dignified experience through patient handling, medical beds, personal hygiene, disinfection, diagnostics, and the prevention of pressure injuries and venous thromboembolism. With over 6500 people worldwide and 65 years caring for patients and healthcare professionals, we are committed to driving healthier outcomes for people facing mobility challenges.
For more information about Arjo visit www.arjo.com