Chargé de projets conception Mécanique - Magog, Canada
Date: Mar 7, 2023
Location: Magog QC (CAN), Quebec, Canada
Company: Arjo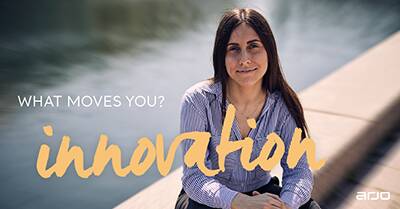 Empowering careers at ARJO
At Arjo, we know what moves us. We go above and beyond for people facing mobility challenges. We take every opportunity to work and grow as one team and take pride in sharing our knowledge and experience. Does that sound like something that moves you too?
This could be your opportunity to begin a challenging and rewarding career in a healthcare company that empowers movement for people with mobility challenges.
Responsabilités et fonctions :
Participer au développement de nouveaux lève-patients et dispositifs d'aide à la mobilité

selon le processus de développement de produits (PDP) et les exigences réglementaires ;

Traduire les besoins des usagers et les fonctionnalités de produits souhaitées en solution technique ;

Trouver des solutions techniques innovantes pour répondre aux besoins/requis tout en s'assurant que le design est robuste, sécuritaire, performant, manufacturable par les fournisseurs à un coût acceptable et facile à assembler en production

; 

Rédiger des requis de conception détaillés ;

Effectuer des calculs, des simulations et l'analyse des résultats d'essais (en laboratoires et avec usagés) concernant le développement de nouveaux produits ;

Trouver des solutions pour corriger des problèmes liés à la conception ;

Participer à l'assemblage de prototypes ;

Réviser et approuver les dessins 3D et 2D;

Participer aux démarches de certification des produits ;

Élaborer et réviser la documentation reliée aux projets de recherche et de développement incluant les analyses de risques;

Assurer le lien avec les autres départements (ingénierie, achats, production, AQ) pour l'introduction de nouveaux produits.

;
Exigences :
Diplôme universitaire en génie mécanique, combiné avec 5 ans d'expérience en lien avec le poste (Développement de produits un atout) ;

Maîtrise de la langue anglaise (4/5) ;

Posséder une bonne capacité d'analyse et de la facilité à travailler en équipe ;

Connaissance des procédés de fabrication et d'assemblage ;

Connaissance en résistance des matériaux ;

Expérience avec des logiciels de CAO un atout ;

Expérience en analyse par éléments finis un atout ;

Empathie envers les usagers et aptitude à comprendre le contexte d'utilisation des produits ;

Rigueur, créativité, habiletés manuelles, autonomie ;

Capacité à contribuer à plusieurs projets en même temps ;

Disponibilité à voyager à l'étranger à l'occasion ;
Pourquoi choisir Arjo :
Très belle ambiance de travail enlignée avec les valeurs humaines de l'entreprise où prône le travail d'équipe;

Assurances collectives avec une couverture payé par l'employeur à 75% (dentaire, vision, médicale);

REER avec cotisation de l'employeur allant jusqu'à 4,2%;

Congés mobiles et journées payées pendant la période des fêtes;

Horaire d'été possible;

Possibilité de voyager à l'étranger ;

Borne pour les voitures électriques ;

Direction axée sur le développement professionnel et ouverte aux nouvelles idées;

Milieu naturel splendide à proximité;

Tâches gratifiantes et diversifiées;

Tellement plus à découvrir!
About Arjo
At Arjo, we believe that empowering movement within healthcare environments is essential to quality care. Our products and solutions are designed to promote a safe and dignified experience through patient handling, medical beds, personal hygiene, disinfection, diagnostics, and the prevention of pressure injuries and venous thromboembolism. With over 6000 people worldwide and 60 years caring for patients and healthcare professionals, we are committed to driving healthier outcomes for people facing mobility challenges.
For more information about Arjo visit www.arjo.com