Account Executive (Acute Care) (Sales) - Toronto, ON
Date: May 28, 2023
Location: Mississauga ON, Matheson West , Ontario, Canada
Company: Arjo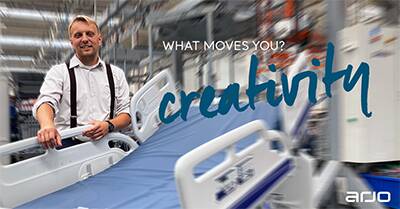 Empowering careers at ARJO
What moves you? Come join dedicated people in pursuit of changing lives for individuals with health and mobility challenges. Develop your skills alongside industry professionals serving your community every day!
Arjo welcomes people from all backgrounds and walks of life. We are an Equal Opportunity Employer and our employees are people with different strengths, experiences and backgrounds, who share a passion for improving people's lives. We believe our people make all the difference in cultivating an inclusive, relatable culture that welcomes ideas, encourages innovation, and values belonging.
Position: Account Executive
Location: Toronto, ON
Job type: Sales
The impact you will have
The Account Executive is responsible for driving the demand of Pressure Injury Prevention/Wound care, Patient Handling, Hygiene and Disinfection products in Acute Care settings to achieve financial and strategic goals within an assigned territory.
As the Account Executive you will be responsible for:
A resilient seller, you are expected to be driven, with the passion and appetite for success, along with the determination to consistently meet exciting targets and demands from both internal and external customers

An effective business planner, you will identify future opportunities for yourself and the team to support Arjo growth plans in Acute Care. You will optimally use CRM systems to plan and follow up your business leads.

An effective customer relationship manager you will have a steadfast desire to satisfy the customer, by taking a "partnership" approach to selling, by listening to and understanding Arjo and the customer's commercial constraints, whilst ensuring that Arjo provide the products and services the customer needs, whilst creating effective options and innovative solutions to resolve and prevent customer issues.

Using your robust relationship management expertise, and effective use of company CRM systems, you will maintain the customer relationship after the sale, while ensuring that the customer receives an efficient after sales service from the group.

You will use your research and insight gained into customer issues and opportunities as the basis for effective account and customer planning, and to drive effective decision making and sales decisions.

Through collaborative "Cross Selling" and "Up Selling" you will be an effective Solution Designer. You will have the confidence and initiative to negotiate "Win / Win" solutions, the commercial ability to "close the sale" and design effective and creative solutions within commercial constraints. You will understand the importance of negotiating deals that satisfy both the customer and Arjo in the knowledge that the overall solution offered to the customer is more important than any individual product.
The skills you will need
Digital literacy; familiarity with information technology concepts, personal computers, Microsoft Office applications. Experience of CRM systems and other sources to analyze data to understand customer needs

Previous experience in healthcare sales

Must be willing to travel to attend scheduled business and corporate functions as required.

Must have a valid driver's license and satisfactory driving record.

Provide support after hours, on weekends and holidays as required.

Background in handling long sales "Life-cycle" processes and in "consultative" selling, ideally in a group environment, where there has been a requirement to work collaboratively across different functions and areas of expertise.

Background of customer relationship management.
What we will offer in return
You will support our vision to be the most trusted partner in driving healthier outcomes for people facing mobility challenges. In return, we recognize and value our global employees. Our Total Rewards programs reflect who we are as an organization and the value we have in our people. Our programs support our commitment to open communication, ethical behavior and safety, and growth and development of our employees. All of these programs help to promote our highly engaged and vibrant workplace - our most recent employee engagement survey score was 8.2/10! In addition, you will be eligible for:
A positive employee experience is centered on trust, pride, and teamwork, which is reflected in our recent Great Place to Work® certification.

Full Benefit Coverage – medical, dental, vision, life insurance

Registered Pension Plan (RPP) - 4.5% company contribution plus a 20% match of voluntary employee contributions

Company paid vehicle

Education Assistance Program

December 24 and your birthday as extra paid days off

Statutory Holiday Substitution Program

Volunteer Time Off Program – paid time off to volunteer

Participation in social and wellness events

Base pay and variable compensation. Vary based on the nature of the job

Paid Training and Development - We support the development and growth of our employees through constant training opportunities.
Why diversity matters to us
At Arjo, we believe in the power of diversity. We strongly encourage applicants from all parts of society, which means building a more diverse, equitable, inclusive and engaging environment – not only in the workplace, but also within the communities that we serve, work in and live in. We achieve this through a culture and mindset that values the uniqueness of all our people.
Great discoveries happen when people from a diverse set of backgrounds come together. The people at our company support one another. At Arjo Canada Inc. we are committed to implementing, maintaining and enhancing accessibility with respect to employment and the use of all Arjo goods, services, programs and facilities in a timely manner for all persons with disabilities in a manner that:
Respects their dignity and independence;

Ensures reasonable efforts are made to provide an opportunity equal to that given to others; and

Provides opportunities for persons with disabilities to benefit from the same services, in the same place, and in a similar way to others, to the greatest extent possible

Providing an environment where we empower and work as one team
Achievements & Partnerships
Arjo Canada is proud to be an Employer Partner with the Canadian Centre for Diversity and Inclusion (CCDI), which provides us with a number of benefits that will support us on our diversity and inclusion journey.

Arjo Canada Inc. has been selected for The Career Directory as 2023 Canada's Best Employers for Recent Graduates, a guide to entry-level recruitment for recent college and university graduates.

Arjo Canada has been certified as a Great Place to Work® after a thorough, independent analysis conducted by Great Place to Work Institute® Canada. This certification is based on direct feedback from our employees, provided as part of an extensive and anonymous survey about their workplace experience.
About Arjo
At Arjo, we believe that empowering movement within healthcare environments is essential to quality care. Our products and solutions are designed to promote a safe and dignified experience through patient handling, medical beds, personal hygiene, disinfection, diagnostics, and the prevention of pressure injuries and venous thromboembolism. With over 6000 people worldwide and 60 years caring for patients and healthcare professionals, we are committed to driving healthier outcomes for people facing mobility challenges.
For more information about Arjo visit www.arjo.com
We will ensure that individuals with disabilities are provided reasonable accommodation to participate in the job application or interview process, to perform crucial job functions, and to receive other benefits and privileges of employment. Please contact us to request accommodation.