Rental Technician - Lincoln, UK
Date: Mar 20, 2023
Location: North Region UK, Field based (, Yorkshire, Gb United Kingdom
Company: Arjo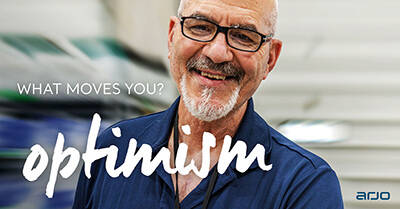 Empowering careers at ARJO
At Arjo, we know what moves us. We go above and beyond for people facing mobility challenges. We take every opportunity to work and grow as one team and take pride in sharing our knowledge and experience. Does that sound like something that moves you too?
This could be your opportunity to begin a challenging and rewarding career in a healthcare company that empowers movement for people with mobility challenges.
Position: Rental Technician
Location: Field based North Region
Job type: Full Time, Permanent
Shift Pattern:   Wednesday, Thursday, Friday, Saturday and Sunday 08.30 - 16.30

The impact you will have
As a Field Representative, you will support Arjo's customer by delivering and picking up rented products when patients and care givers need it most. You will exceed customer demands by reliably delivering products as efficiently as possible, ensuring patients and residents have access to necessary solutions that empower movement, thereby improving their quality of life.  
As the Rental Technician, you will be responsible for the delivery, collection, 1st line repair and servicing of our rental equipment in the local area, based at our site in Newark. The team covers a large area across Derbyshire and Lincolnshire. Some days may start and finish at the Newark site, where other days may start by going straight to a customer site. 
Our products address the clinical needs for long term care residents and patients with chronic health conditions and includes positioning solutions, mattress systems, medical beds, hygiene systems and compression therapies that are safe, easy to use and have a proven ability to address preventable injuries, such as pressure ulcers. 
This is an interesting and varied role where you will have interaction with our customers and patients so you must have excellent communication and customer service skills to enable you to provide the exemplary level of service we strive to offer. Your personality, enthusiasm, energy and positivity are essential for us to build long-term relationships with our customers and ultimately play a key role in providing the essential equipment required by our patients.

The skills you will need 
•    A methodical, logical and practical approach.
•    Ability to prioritize work and amend route plans accordingly.
•    Experience of multi-drop delivery highly desirable.
•    A positive and team oriented approach, whilst being able to work autonomously.
•    Excellent written and spoken English.
•    Driving License: Required to hold a valid UK drivers license.
•    Enhanced DBS clearance: Required (at the cost of Arjo).
•    Must be able to lift bulky bedframes and mattresses for prolonged periods.
•    Due to the nature of this role, there may be a requirement to undertake work outside of normal hours i.e. evenings, weekends and bank holidays and participate in the "On Call" rota.
•    You will be required to drive a large van and hold a clean driving license (held for a minimum of one year) and be able to route plan effectively. The van is to be kept at your home address, so you must have a suitable location to park the van when not at work.

What we will offer in return 
You will support our vision to be the most trusted partner in driving healthier outcomes for people facing mobility challenges. In return, we recognize and value our global employees. You will have our full support, training and opportunities for professional development, along with competitive package. We will provide as well as uniform & access to a company van, which can be used to and from work.
Why diversity matters to us 
At Arjo, we believe in the power of diversity. We strongly encourage applicants from all parts of society, which means building a more diverse, equitable, inclusive and engaging environment – not only in the workplace, but also within the communities that we serve, work in and live in. We achieve this through a culture and mindset that values the uniqueness of all our people.
Due to the nature of this role, the successful applicant will be required to undertake an Enhanced DBS check prior to commencing employment.
If hired, we require that all employees be vaccinated, unless a medical exemption is in place confirmed by a medical practioner. 
Please be aware that by applying for this role, you are giving Arjo permission to store your information.
About Arjo
At Arjo, we believe that empowering movement within healthcare environments is essential to quality care. Our products and solutions are designed to promote a safe and dignified experience through patient handling, medical beds, personal hygiene, disinfection, diagnostics, and the prevention of pressure injuries and venous thromboembolism. With over 6000 people worldwide and 60 years caring for patients and healthcare professionals, we are committed to driving healthier outcomes for people facing mobility challenges.
For more information about Arjo visit www.arjo.com