Accountmanager LTC - Amsterdam, The Netherlands; Almere, The Netherlands; Zeist, The Netherlands
Date: Mar 6, 2023
Location: Tiel (NLD), All, Netherlands
Company: Arjo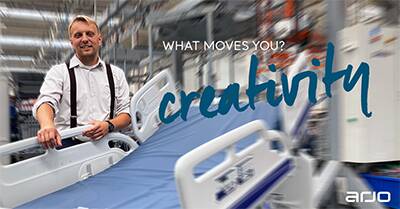 Empowering careers at ARJO
At Arjo, we know what moves us. We go above and beyond for people facing mobility challenges. We take every opportunity to work and grow as one team and take pride in sharing our knowledge and experience. Does that sound like something that moves you too?
This could be your opportunity to begin a challenging and rewarding career in a healthcare company that empowers movement for people with mobility challenges.
Accountmanager LTC (32-40 uur)
klantgericht – enthousiast - daadkracht
 
Jouw Functie
Als Accountmanager ben je verantwoordelijk voor het behalen van de jaartargets op het gebied van onder andere medical care (bedden, wondbehandeling en decubitus preventie), mobiliteit (transfer- hygiënehulpmiddelen), consultatie & advies, servicecontracten en desinfectieoplossingen. Je bent als Accountmanager LTC (Long Term Care) o.a. werkzaam binnen de verpleeghuizen en gehandicaptenzorg. Je bent onderdeel van Regio West en verantwoordelijk voor het gebied Amsterdam, Almere en Utrechtse Heuvelrug. Je rapporteert aan de Regional Sales Manager en maakt onderdeel uit van het Accountteam. De resultaten worden behaald door een optimale advisering, sales en after sales. De Accountmanager werkt nauw samen met en stemt frequent af met de Praktijk Specialist, Klinisch Specialist, Consultant, het regio Serviceteam, Front Office en Back Office.
Je bent bekend met een outcome-gerichte marktbenadering en haalt je energie uit het behalen van salesresultaten via een teamgerichte benadering. 
Jouw profiel
•    Afgeronde HBO-opleiding richting gezondheidszorg of commercie
•    Minimaal enkele jaren commerciële verkoopervaring op basis van "outcomes"
•    Kennis van de gezondheidszorg 
•    Vaardigheid in verkoop- en onderhandelingstechnieken en adviesvaardigheden.
•    Kennis van MS Office en ervaring met een CRM systeem 
•    Zelfstandig, commercieel en inspirerend
•    Teamplayer
•    Minimaal 32 uur werkzaam 
•    Uitstekende kennis van Nederlandse en Engelse taal in woord en geschrift
 
Ons aanbod
•    Salaris o.b.v. fulltime minimum € 3360, maximum € 4484 en hoger voor exceptioneel presterende medewerkers 
•    27 vakantiedagen
•    Mogelijkheid tot het bijkopen van 10 vakantiedagen
•    13e maand
•    Bonusregeling
•    Goede pensioenregeling met 2/3e bijdrage vanuit Arjo
•    Flexibel thuis werken mogelijk 
•    Doorgroeimogelijkheden
•    Mogelijkheid tot opleidingen
•    Leuk team van collega's
•    Informele werksfeer
•    Ruimte voor eigen ideeën en initiatief
•    Een dynamische, internationale werkomgeving
 
About Arjo
At Arjo, we believe that empowering movement within healthcare environments is essential to quality care. Our products and solutions are designed to promote a safe and dignified experience through patient handling, medical beds, personal hygiene, disinfection, diagnostics, and the prevention of pressure injuries and venous thromboembolism. With over 6500 people worldwide and 65 years caring for patients and healthcare professionals, we are committed to driving healthier outcomes for people facing mobility challenges.
For more information about Arjo visit www.arjo.com