Projectcoordinator Bouwen - Tiel, The Netherlands
Date: May 18, 2023
Location: Tiel (NLD), All, Netherlands
Company: Arjo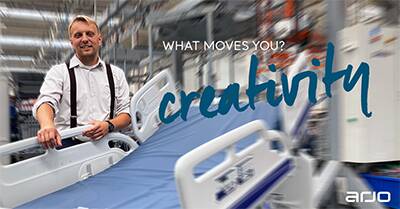 Empowering careers at ARJO
At Arjo, we know what moves us. We go above and beyond for people facing mobility challenges. We take every opportunity to work and grow as one team and take pride in sharing our knowledge and experience. Does that sound like something that moves you too?
This could be your opportunity to begin a challenging and rewarding career in a healthcare company that empowers movement for people with mobility challenges.
Jouw functie
Als projectcoördinator bij Arjo ben je verantwoordelijk voor de voorbereiding en begeleiding van installatieprojecten. Deze projecten bestaan uit de montage van plafondtilliften, badsystemen, bedpanspoelers en sanitaire hulpmiddelen. Daarvoor verzorg je het benodigde tekenwerk (CAD), technische documentatie en ondersteun je sales tijdens de offertefase. Ter voorbereiding van de installatie van de hulpmiddelen stem je met de betrokken partijen de details en planning af. Daarnaast zorg je dat de projectadministratie op orde is. 
In deze functie ben je dus een actieve schakel tussen de klant, sales en service. Je werkt daarom nauw samen met je collega's om de planningen te realiseren, de voortgang van projecten te bewaken en je draagt zorg voor een goede oplevering. 
Jouw profiel
-    Je hebt minimaal MBO+/HBO werk- en denkniveau en een diploma op het gebied van (werktuig)bouwkunde of een andere relevante technische opleiding;
-    Je hebt minimaal drie tot vijf jaar werkervaring bij voorkeur in een commerciële dienstverlening met een breed bouwkundig en technisch inzicht;
-    Je bent zelfstandig, pro-actief, klantgericht en communicatief vaardig;
-    Je beheerst de Nederlandse en Engelse taal in woord en schrift;
-    Je bent vertrouwd met Microsoft Office, ERP, CRM en AutoCAD;
-    Ben je ervaren met BIM / Revit dan is dat een pré;
-    Je bent in het bezit van een rijbewijs.
 
Ons aanbod
•    Salaris o.b.v. fulltime minimum € 2.714 maximum € 3.611 en hoger voor exceptioneel presterende medewerkers. 
•    27 vakantiedagen
•    Mogelijkheid om tot 10 vakantiedagen te kopen
•    13e maand
•    Bonusregeling
•    Goede pensioenregeling met 2/3 bijdrage vanuit Arjo
•    Flexibel thuis werken mogelijk
•    Doorgroeimogelijkheden
•    Mogelijkheid tot opleidingen
•    Leuk team van collega's
•    Informele werksfeer
•    Ruimte voor eigen ideeën en initiatief
•    Een dynamische, internationale werkomgeving
About Arjo
At Arjo, we believe that empowering movement within healthcare environments is essential to quality care. Our products and solutions are designed to promote a safe and dignified experience through patient handling, medical beds, personal hygiene, disinfection, diagnostics, and the prevention of pressure injuries and venous thromboembolism. With over 6500 people worldwide and 65 years caring for patients and healthcare professionals, we are committed to driving healthier outcomes for people facing mobility challenges.
For more information about Arjo visit www.arjo.com