Field Service Associate/Driver @Arjo (Mesa, AZ)
Date: Feb 28, 2023
Location: Mesa, AZ (USA), Arizona, United States
Company: Arjo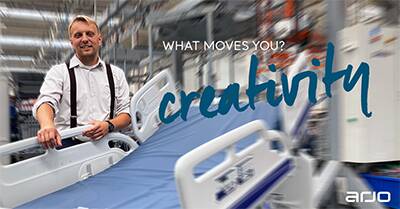 What moves you?
Come join dedicated people in pursuit of changing lives for individuals with health and mobility challenges. Develop your skills alongside industry professionals serving your community every day!
Arjo welcomes people from all backgrounds and walks of life. We are an Equal Opportunity Employer and our employees are people with different strengths, experiences and backgrounds, who share a passion for improving people's lives. We believe our people make all the difference in cultivating an inclusive, relatable culture that welcomes ideas, encourages innovation, and values belonging.
Our Total Rewards programs reflect who we are as an organization and the value we have in our people. Our programs support our dedication to open communication, ethical behavior and safety, and growth and development of our employees.
Total Cash – Base pay ($19-20/hr) plus OT and variable compensation

Benefits – Competitive medical, vision, dental, etc. insurance and award-winning 401k plan.

Paid time-off – vacation, 12 holidays (8 standard/4 floating), birthday and voluntary days off.

Paid Training and Development - We support the development and growth of our employees through constant growth opportunities.
The Field Service Associate/Driver is responsible for the maintenance, cleaning, delivery and pick up of Arjo medical equipment that is used on rental basis by local hospitals and nursing homes.
This position is based in Arjo's Mesa service center and will involve driving to and from Phoenix-area medical facilities using company vehicles.
Day-to-day functions:
Prepare medical equipment and documentation for delivery

Load and unload medical equipment

Drive 24 foot cargo van to make deliveries and pick-ups

Process delivery and pick-up documentation as required

Search for equipment that has been misplaced or lost

Maintain vehicle appearance by ensuring all routine vehicle maintenance is completed and records maintained

Clean and disinfect medical equipment to Arjo quality standards

Present highest level of customer etiquette in all patient/customer interactions
Qualifications:
High school diploma or equivalent

MUST HAVE clean driving record

Two(2) years' experience within service or operations field

Two(2) years' experience in front-line customer-service

Ability to enter information into work logs and existing computer systems

Ability to lift up to 30lbs and push/pulling up to 75 pounds

Ability to drive work truck

Ability to work with solvents and cleaners to disinfect products in a non-climate controlled warehouse environment
About Arjo
At Arjo, we believe that empowering movement within healthcare environments is essential to quality care. Our products and solutions are designed to promote a safe and dignified experience through patient handling, medical beds, personal hygiene, disinfection, diagnostics, and the prevention of pressure injuries and venous thromboembolism. With over 6500 people worldwide and 65 years caring for patients and healthcare professionals, we are committed to driving healthier outcomes for people facing mobility challenges.
For more information about Arjo visit www.arjo.com